How to Order

Ordering

Payment

Shipping & Returns

Shipping Rates
Returns, Changes
and Cancellations

Order Tracking
Loose Change Magazine
New, just released!!!
Loose Change Magazine Digital Edition!!!
The entire collection of Loose Change Magazine, all on one DVD!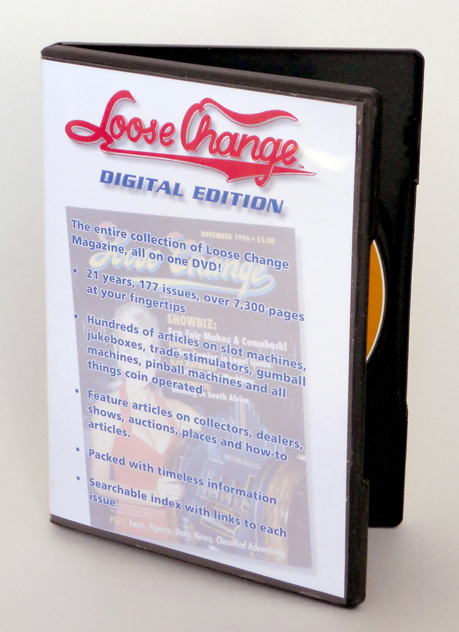 • 21 years, 177 issues, over 7,300 pages at your fingertips

• Hundreds of articles on slot machines, jukeboxes, trade stimulators, gumball machines, pinball machines and all things coin operated

• Feature articles on collectors, dealers, shows, auctions, places and how-to articles.

• Packed with timeless information

• Searchable index with links to each issue

System Requirements: PC or Macintosh, DVD-ROM, Adobe Acrobat Reader

LCM-Digital Edition . . . . . . . . Just $44.95 each
Shipping: First Class Mail: 3.95 Priority Mail: $5.50
Order on Amazon.com! or visit our eBay Store!
Loose Change Magazine Directory
The Following Is A Complete Listing Of Every Issue Of
Loose Change Magazine
TWENTY-ONE YEARS OF EXCITING BACK ISSUES!
Beginning in 1977, the cornerstone publication for slot machine enthusiasts was Loose Change Magazine. During its 21 years and 177 issues of publication, hundreds of articles were published about slot machines (antique and contemporary), trade stimulators, jukeboxes, pinball machines, gumball machines and all things coin operated.
For the collector or historian interested in the formation of the slot machine collecting hobby, many of these back issues will prove invaluable. The articles in Loose Change Magazine are timeless; they are just as informative and entertaining today as when they were first published.
Although individual back issues are no longer available in print from Mead Publishing Co., they can all be found in the Loose Change Magazine Digital Edition.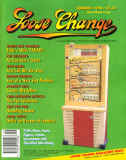 Summer 1998 (Final Issue)
A Skill Game of Parade Bally's 1957 SKILL PARADE surfaced in near perfect condition. It's everything you could ask for in a game, and we tell you all about it. An Outsider's Guide to the Internet A look at the myths, misconceptions, wishful thinking and just plain lies from a legal point of vies. Just Call Me Slot Dog A new card game based on slot machines can be learned in two minutes, and the pay frequency is twice that of a normal slot. The Soul of a New Slot Machine It's the Indians against the California palefaces, and there may soon be machines in the Golden State. Casino Discipline The next time you gamble, make an agreement with yourself about win/loss limits. The Pay Telephone Here is the history behind America's most prevalent coin-operated machine. Gambling Humor The author pokes fun at gambling and gamblers. Guilty by Reason of Insanity Judges must decide legal questions they never had to face before, like the gambler who had to steal to support his habit!
May 1998
North Strip — Potential Gold Mine? While Las Vegas' south Strip continued to grow, the north end has been slow. We examine signs of positive movement in and around the area. Tribal Gaming Compacts A Definite Maybe California's gaming compact with the Pala Band of Mission Indians has the potential to spoil Las Vegas's current boom. The Successful Crapshooter This report examines the many facets of the successful crapshooter's wisdom. Trends An examination of the unprecedented spread of legal gambling in 28 states and territories and on dozens of Indian reservations.
April 1998
Separating the Coins from the Slugs A look at the battle between manufacturers of slug rejecters and the cheaters who try to fool them. Legal Issues in Gaming's New World: Gaming has spread so fast that it is sometimes difficult for casino executives to spot a danger before it develops into a legal problem. A Great System to Come With 100X odds on craps, how much should you take? Go Down/Percentage Play for Slot Play This was the last article of Frank Scoblete's series, "Loose Change Guide to Slot Machines."
March 1998
Resurrecting Dead Signs The story restored Las Vegas signs and of YESCO, the company that made most of the city's colorful signs. Jackpot? Sorry, The Machine Malfunctioned It's difficult to win a large jackpot, but what happens when the machine says you've won and management says you haven't? Best Bet on the Craps Table How to take "free" odds on the craps table without making a pass/don't pass or come/don't come bet first. Play-Through System Part 11 of the "Loose Change Guide to Slot Machines" series presents a money management scheme that may not send you home a winner, but at least it won't send you home a loser.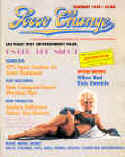 February 1998
Enter The Night It's the best showroom value on the Strip. Enter The Night is a modern high-tech extravaganza with an old fashioned price tag. Open Season on Card Counters Just as we are all resigned that discrimination of any kind is a no-no, a New Jersey court has held that card counters are so dangerous that casinos in Atlantic City are free to throw out the poor schmucks that manage to win. When Bad Kids Gamble In Illinois anyone who loses $50 or more can sue the winner and get their money back. If they fail to file suit within six months, anyone else can sue and get triple the amount lost. A child's mother did it. Preparing For Your Monster Roll How to prepare for your monster roll at the craps table. Record keeping is the key. Two Common-Sense Slot-Playing Tips Part 10 of the "Loose Change Guide to Slot Machines" series gives sound advice for those who cannot afford the best percentages found on $5 machines.
Winter 1997
A Holiday Message The publishers extend their yuletide greetings. Christmas in Las Vegas Janet Fleming gives her annual plug for Santa Claus and Las Vegas and tells readers about the Christmas action in the entertainment capital of the world. Reno Adventure Believe it or not, before Las Vegas, Reno was where all the action was. The surrounding area offers a treasure chest of recreation: Carson City, Virginia City and Lake Tahoe. A Nevada Christmas Carol Author Barney Vinson gives a casino-worker's version of the famous Christmas poem. Courts Keep Riverboats Afloat Gaming attorney, I. Nelson Rose, presents various facets of the ultimate riddle: do vessels that don't sail carry passengers? The Giggling Gambler It's joke time for the casino and gambling enthusiast. Craps Superstitions Larry Edell tells why the hard ways are hard and discusses craps superstitions.
November 1997
The Rockettes No trip to New York City would be complete without a visit to Radio City Music Hall to see the Rockettes perform. Now a version of the show can be seen at the Flamingo Hilton Hotel & Casino. Selling Gambling Christmas comes but once a year, but for those in the gaming business, the World Gaming Congress & Expo is Christmas in October at the Las Vegas Convention Center. Gaming Industry Growth Slows This special report reviews the causes for diminishing growth in the industry. Home When Lake Mead filled after construction of Boulder Dam, an entire town was covered with water. One man waited until the last minute at his "home." Will Indians Get Slots? Whether Indian tribes will get slot machines in California is a question of politics, not law. We explain why. Selecting A Casino Your best shot at craps could be your selection of a casino. The Devastating House Edge Part Eight of the "Loose Change Guide to Slot Machines" series discusses how the slot player's skills with money management can help reduce loses and increase winning streaks.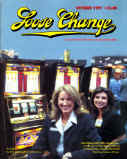 October 1997
Showtime An examination of Bally's new products for the 1997 World Gaming Congress. California Legislature Makes Sausages Rammed through in the previous legislature, California's new Gaming Control Act does much less than the name promises. Hot Times at the Fun Fair The highly-touted tent show provided hot times for the Fun Fair's move to Glendale, California. Bally . . . Historically Speaking The history of Bally from 1931 to the present time and how and where slot machines and pinballs parted company. We Hereby Prohibit and Legalize Internet Gambling Nevada simultaneously prohibited and legalized something. Secrets of Put Bets Secrets of put bets and how to get better comps. The Question of Casino Cheating Part Seven of the "Loose Change Guide to Slot Machines" series discusses the possibility of certain types of casino cheating.
September 1997
Entertainment After Hours The Follies Bergere is everything a major Las Vegas show should be. Originating in 1869 and brought from Paris to the Tropicana Hotel and Casino in Las Vegas in 1959, it's Las Vegas' longest running show. Whalen Auction Results A little-known auction company near Toledo, Ohio, held an auction of coin-operated devices, toys and other things. We list the coin-op prices. The Smart Machine Families Part Six of the "Loose Change Guide to Slot Machines" Series talks about today's smart, chip-controlled slot machines. Why The Law Is Having Trouble With Internet Gambling Technological developments wreck havoc with the law. With new inventions—like the Internet—old categories of the law no longer apply. Hot Las Vegas Jokes Every summer the Las Vegas comedians joke about the sizzling temperatures and unsuspecting tourists. Here's a sampling from various show and lounge acts. Sure-Fire Craps Bets The new "Sure-Fire" bet and better place bets than the six or eight spotlight the craps shooter.
Summer 1997
New York, Nevada This one-third size replica of the "Big Apple's" skyline is one of the most impressive-looking hotel/casinos on the Strip. Two Plays For A Quarter Watling's special TWO-PLAY ROL-A-TOP was effectively on 12½¢ play—two plays for a quarter. We tell you all about it and show you how it works. Nevada Denies License For Uncle Sam "Sorry, Uncle Sam," Nevada said, " we can't give you a license to operate a casino. We don't know whose hands will be in the till." Buy Yourself A Better Bet The author discusses buy bets. Also included is an easy way to determine the odds. Those Smart Slot Machines Part Five of the "Loose Change Guide to Slot Machines Series" talks about the new computer-driven smart slot machines.
May 1997
To Have And To Hold Whether you're getting married or already married and renewing your vows, Las Vegas could be your most logical choice. Weddings in the city that never sleeps are tailored to the couple, not the church. Traditional or outrageous, Las Vegas has it all. Fruitless Search for World's Ugliest Slot Machine Leads to Stardust Gem AKU AKU's nickname is "Tiki God," but any way you look at it, it's the World's ugliest slot machine. Hawaiian Casinos In late February of 1997, it was voted to legalize casinos on Hawaii. Does this mean native Hawaiians will have casinos? The Basics of Lay Bets The author discusses Lay bets, sometimes called "dark side" bets because they pay off if a seven rolls before the point does. The Evolution of the Slot Machine Part Four of the "Loose Change Guide to Slot Machines" series presents the beginnings of the slot machine, starting with the Fey LIBERTY BELL.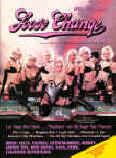 April 1997
Entertainment After Hours For Loose Change magazine's first entertainment review, the American Superstars show at the Stratosphere took first place. To Bewitch and Bewilder This successful businesswoman says her stint as a 1970s Las Vegas stage magician got her started in her own meeting services company. Beating The Slot Machines This revealing, special report explains why advice on beating the slot machines is outdated, and why the newer machines offer so many obstacles to the cheater. Minnesota vs. The Internet A Minnesota judge has ruled that the Nevada operator of an on-line sports betting service can be sued in Minnesota. Our gaming attorney/columnist explains why. Not All Slot Machines Are Created Equal Part Three of the "Loose Change Guide to Slot Machines" series gives important tips and information for slot machine players. Hopping Bets Hopping Bets are such a stupid bet on the craps table, you even have to ask for them. But the payoff is high; are they really worth the price?
vv PUBLICATION SUSPENDED vv
FEBRUARY 1997 AND MARCH 1997
Winter 1996
The 1996 Gaming Show The year's largest event for the gaming industry comes alive. We singled out the new slot machines for our readers. Casino Gaming: An Entertainment Activity This new nationwide survey shows that while a small but much publicized group of gaming opponents is saying "no dice" to gambling, more than 90% of Americans have a different opinion. Classic Mail-Order Systems Are the classic mail-order systems for craps players really worth the price. Find out here. Why The Growth In Slot Play Part Two of the "Loose Change Guide to Slot Machines" series examines the widespread growth in slot machine play.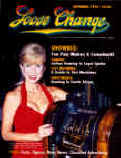 November 1996 (Full Color Issue)
Fun Fair Makes A Comeback After a six year furlough, the Original Loose Change Fun Fair returned to Pasadena, California. Photo Essay: Girls of the Fun Fair Meet former Playboy magazine playmates Nancy, Cynthia, Cassandra, Bonnie and Sharon . . . in full color and in their most alluring poses. Las Vegas: By The Numbers Some very interesting statistics about Las Vegas: 30.3-117,160-24. Can you solve the puzzle? Life and Legends of Las Vegas Benjamin Siegel had a partner at the Flamingo: Davie Berman. Here is an exclusive interview with his daughter, Susan Berman. Indian Gaming Thrown Into Legal Limbo The U.S. Supreme Court helped create the boom in 1987, but now it has thrown the industry into such confusion that any plans for expansion have ground to a halt. Slot Players of the Past Part One of the brand new "Loose Change Guide to Slot Machines" series talks about 1958 Las Vegas, men in tuxedos and women in gowns and cocktail dresses. Can you guess the role of the lowly slot machine? Gaming In South Africa South Africa has promise of becoming the latest hotbed for legal gambling. Backing Off The Supreme Court is now looking at a more level playing field for businesses based on "vice."
October 1996 (Full Color Issue)
Man With A Mission Blinded by the glamour of today's industry giants, we tend to forget there are smaller companies building successful slot machines. This article profiles Michael Wichinsky of Games of Nevada. New Currency Reporting Regulations Most casino patrons are unaware of the "Bank Secrecy Act of 1970." But it has nothing to do with banks or secrecy. If you are a player, don't miss this one. Pyramid Schemes — Gambling or Fraud The Ponzi scheme created a near-riot in 1920. Still, why do so many people park their brains at the curb when they walk into pyramid parties?
September 1996 (Full Color Issue)
Pictures at an Exhibition Everybody has their favorite slot machine— to play, look at, collect or talk about. But take a look at the publisher's collection of paper slot machines, all on photographic paper. Here are his favorites. Supreme Court Reverses Gaming Ad Ban The Posadas decision, an apparent violation of free speech, banned advertising for gambling. Read about how it was changed. Nevada Approves Interstate Phone Bets Nevada's Legislature votes to allow the state's casinos and sports/race books to accept telephone wagers from around the country. A History of Gambling A booklet-length reprint of a long-lost booklet on the history of gambling. Nuts and Bolts Author Barney Vinson presents a collection of amusing vignettes resurrected from the gaming industry.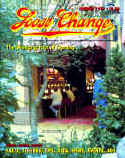 Summer 1996
Changing Face of Gambling The enchantment of gambling is being lost, says the author. But what may be lost are the old ways . . . the old casinos and the people who worked in them. Growing Pains of Gambling The bankruptcy of New Orleans Jazz made the news big time, but equally-important closures are occurring all across the nation. The Jennings SPORTSMAN This payout style pin game was manufactured by a company that specialized in the manufacture of slot machines. Once Upon A Time This satire reads like a fairy tale, but it's about gaming. It is also spellbinding, but all true. Pinball Foolishness Tim Arnold is not only Mr. Pinball, he's also a satirical cartoonist. We present a sample of his work, the pamphlet-length: "How I Stopped Being Normal and Became a Hopeless Pinhead."
May 1996
Mystery of the E Identifying slot machines was easier when they had names. But when Bally started calling them by model numbers and they all had similar looks, the task became more complicated. The E-Series presents a real dilemma, but we sort out some of it for you. Part of IGRA Declared Unconstitutional The Supreme Court has declared that the Indian Gaming Regulatory Act opinion of Seminole Tribe vs. Florida is unconstitutional. Barflies Bartenders are a great source of information in Las Vegas, says Barney Vinson, author of Chip-Wrecked In Las Vegas. Here are some amusing highlights from one of his bar-top interviews. A Brief History of Slot Machines and Advice For Players Here are some peculiarities about the history of slot machines you may not have heard about. Legislators As Social Engineers The business of gambling is like no other; it's illegal until state lawmakers decide to make it legal. Legislators are usually wrong, however, because they tend to impose their personal beliefs on society. On The Foney Frontier Somebody beautifully restored and painted "Frontier Hotel-Casino" on the front of an old Buckley slot machine. We'll take you inside this "foney" casino machine. The Czar of Indian Gaming A 1996 decision by the U.S. Supreme Court effectively makes the Secretary of the Interior the czar of gaming in the south. In the west? No dice!
April 1996
A Taste of Royalty Monte Carlo! It's the world's most famous casino, where sheiks, kings, jet-setters and James Bond have wagered shameful amounts of money. We take you there, and you won't even need a passport! Cheating/Being Cheated At Indian Casinos Did you ever wonder what happened to someone who tried to cheat an Indian casino? How about an Indian casino that cheats a player? How To Cheat The Slots Old methods of cheating the slots don't work today, but we'll tell you how they worked in the old days. Las Vegas In Blue Jeans Filled with one-liners and bound to keep you smiling, this is a tale of how Las Vegas grew up after the construction of Hover Dam. When Image Is Declared Reality In some cases, results of legal requirements for gambling are exactly the opposite of what law-makers planned.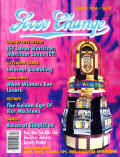 March 1996
IGT Loves Wurlitzer, Wurlitzer Loves IGT Two coin-op giants have teamed up together on a jukebox slot machine. We trace the companies' roots and describe the development of their products. When Losers Sue Winners Under nearly a 300-year law, you can sue a casino for return of your gambling losses. It sounds like a great idea, and a New Mexico man is doing just that, trying to recover $56,685. Baccarat Simplified Baccarat seems to be one of those games reserved for the rich. But the game has a favorable edge for the player, and mini-baccarat can be played for minimums as low as $2.00. The Golden Age of Slot Machines This historical sketch traces the development of the slot machine from the 1880s to 1951, the effective end of the road for many manufacturers. Slot Shots A collection of slot stories, like the wrong music in a musical slot machine, the case of a walking payout unit and a Reno slot mechanic who paused to tell a story from the archives about true love. Examining Internet Gambling A discussion of the efforts and obstacles to halt electronic gambling on the internet.
February 1996
The Jennings Square-Tops The next model of Jennings after the SUN CHIEF series was the EL DORADO, with a wide square top. A number of models were made, and we show and tell. The Fremont Street Experience Las Vegas' downtown Fremont Street, one of the most photographed streets in America, has been covered and redeveloped into something called The Fremont Street Experience. We tell what, why and our opinion. The Indians Still Win Our gaming attorney/columnist revisits an Indian-gaming keno case, which could lead to slot machines in California. The Great Tilt Here's a story for pinball enthusiasts about a match on a brand-new game called HIGH DIVER. Preferential Shuffling Casinos can now buy card-dealing shoes that read each card automatically as it is dealt. Will the dealers now reshuffle when it is advantageous for the house?