How to Order

Ordering

Payment

Shipping & Returns

Shipping Rates
Returns, Changes
and Cancellations

Order Tracking
Music Machines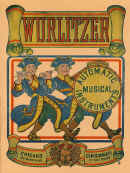 Wurlitzer Automatic Musical Instruments: This reprint of a 1908 Rudolph Wurlitzer Company catalog is a nostalgic window into the turn-of-the-century operations of the famous music machine manufacturer. Covered are the electric Piano, nickel-operated Tonophone, the Wurlitzer Harp. the Mandolin Quartette, Player-Piano, Piano Orchestra, Singing Birds, Pipe Hand Organ and Military Band Organs, all with detailed descriptions and prices. The 48-pagge catalog also contains information about the Wurlitzer Company, testimonial letters from customers, and photos of music machine installations. The reprint itself was a find; printed more than 30 years ago, and discovered in a forgotten warehouse by Dan and Nora Mead, while exploring the Southern Nevada area. The book measures 7 3/4" x 10 3/8", and is saddle-stitched with a colorful drawn cover.
Wurlitzer Automatic Musical Instruments (Reprint).......... $9.95
Shipping: First Class Mail: $2.50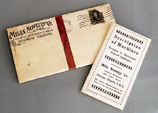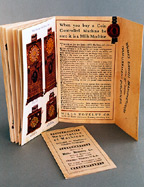 1910 Mills Novelty Company reprint, with Description of Machines supplement: Here's a very well reproduced catalog from Ira Warren. Printed in full color, the main catalog illustrates the arcade and slot machines offered from the Mills Novelty Company at the time. What makes the catalog especially useful is the supplemental Description of Machines. Each machine is described as to how it operates and its specifications. A must have for collectors of early Mills machines. Color catalog, 32 pages tri-fold, self-cover, 5 ½" x 10 ½"; supplement, self-cover, 36 pages, 4 ¼" x 7 ½".
1910 Mills Novelty Reprint.............................................. $19.95
Shipping: Media Mail: $2.95 Priority Mail: $5.50
Be sure to contact us if you're ordering more than one book so we can save you
money on shipping! Email: orders@meadpublishinglasvegas.com