How to Order

Ordering

Payment

Shipping & Returns

Shipping Rates
Returns, Changes
and Cancellations

Order Tracking
Arcade Games & Coin-Op Machines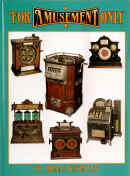 For Amusement Only: This combination book by Thomas Gustwiller covers a wide range of coin-operated amusement and gambling devices - about 500 of them. For Amusement Only is a handy pictorial reference guide for the rare and unusual machines that collectors have heard about, but have seldom seen. Impressive black and white photographs of machines range from single-wheel counter and floor-model slot and card machines to common two and three-reel models. And in between there are cast iron payout and cigar (card) machines, coin flips and drops, horse race and dice games, roulette and spinner games and many miscellaneous devices. Photographs average three to the page and each is accompanied by a specification block listing the name, manufacturer, date, estimated value, rarity factor and appropriate comments. As a bonus, For Amusement Only includes a machine listing originally compiled by Coin Machine Journal and a pictorial listing of the "Most Wanted Unfound Machines." Both are invaluable sources for historical reference. It is fully indexed, contains 248 pages, measures 8 3/4" x 11 1/4", and has a full-color plastic-coated hardcover.
For Amusement Only................Originally $39.95..............Now $20.00
Shipping: Media Mail: $4.45 Priority Mail: $11.00
Order on Amazon.com! or visit our eBay Store!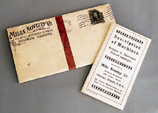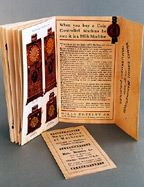 1910 Mills Novelty Company reprint, with Description of Machines supplement: Here's a very well reproduced catalog from Ira Warren. Printed in full color, the main catalog illustrates the arcade and slot machines offered from the Mills Novelty Company at the time. What makes the catalog especially useful is the supplemental Description of Machines. Each machine is described as to how it operates and its specifications. A must have for collectors of early Mills machines. Color catalog, 32 pages tri-fold, self-cover, 5 ½" x 10 ½"; supplement, self-cover, 36 pages, 4 ¼" x 7 ½".
1910 Mills Novelty Reprint.............................................. $19.95
Shipping: Media Mail: $2.95 Priority Mail: $5.50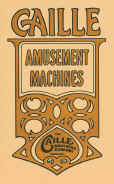 Caille Catalog 512: This authentic reproduction even includes the special roll-over fold, just like the original which was published in 1912. More than 35 illustrations of various arcade and amusement machines grace the pages of this unique catalog. Included are scales, peep shows, lung and strength testers, electricity devices, candy/peanut venders, pedestals and money changers. Printed on glossy paper with multi-color cover, 5 3/4" x 7 /12", saddle-stitched.
Caille Catalog 512 (Reprint).......... $4.95
Shipping: First Class Mail: $2.00
Order at our eBay Store!
Be sure to contact us if you're ordering more than one book so we can save you
money on shipping! Email: orders@meadpublishinglasvegas.com