How to Order

Ordering

Payment

Shipping & Returns

Shipping Rates
Returns, Changes
and Cancellations

Order Tracking
Gambling & Gambling Devices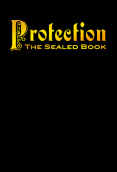 Protection - The Sealed Book: Originally published in 1909, this gambling monograph by Joseph E. Meyer details the various shady practices used by the "sharpers" of the era. With sections on the early slot machines, sleight-of-hand card tricks and crooked gambling devices, rigged roulette wheels, counterfeit money and loaded dice, the book was an early effort to reveal to the public the ingenious tricks, schemes and apparatus used by gamblers and the get-rich-quick fakirs. It is still considered the classic book of gambling scams of all times. This classic tenth edition has been re-typeset, and the original artwork has been enhanced. Editing has been limited only to modernize practices of punctuation, spelling, capitalization and to reference the 214 illustrations. The books charm has been retained by using period typefaces. The result can only be described as a classic classic, faithful to the original in tone and style, but with the improvements that current linguistics and modern technology afford today's publisher. Complete Table of Contents. General Index, Index of Illustrations and Glossary make Protection an important reference work. Protection - The Sealed Book measures 5 1/2" x 8 1/2", contains 192 pages, is perfect bound and has a gold-foil stamped, enhanced facsimile of the original black bookbinders cloth cover.
Protection - The Sealed Book................. $12.95
Shipping: Media Mail: $2.95 Priority Mail: $5.50
Order on Amazon.com! or visit our eBay Store!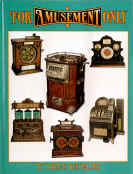 For Amusement Only: This combination book by Thomas Gustwiller covers a wide range of coin-operated amusement and gambling devices - about 500 of them. For Amusement Only is a handy pictorial reference guide for the rare and unusual machines that collectors have heard about, but have seldom seen. Impressive black and white photographs of machines range from single-wheel counter and floor-model slot and card machines to common two and three-reel models. And in between there are cast iron payout and cigar (card) machines, coin flips and drops, horse race and dice games, roulette and spinner games and many miscellaneous devices. Photographs average three to the page and each is accompanied by a specification block listing the name, manufacturer, date, estimated value, rarity factor and appropriate comments. As a bonus, For Amusement Only includes a machine listing originally compiled by Coin Machine Journal and a pictorial listing of the "Most Wanted Unfound Machines." Both are invaluable sources for historical reference. It is fully indexed, contains 248 pages, measures 8 3/4" x 11 1/4", and has a full-color plastic-coated hardcover.
For Amusement Only................Originally $39.95..............Now $20.00
Shipping: Media Mail: $4.45 Priority Mail: $11.00
Order on Amazon.com! or visit our eBay Store!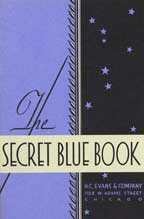 H.C. Evans & Co. Secret Blue Book: This is an excellent reprint of the 1932 Secret Blue Book. The H.C. Evans Co. published several catalogs filled with standard and gaffed gaming equipment, containing layouts, dice, playing cards, holdouts, shiners, slot machines, roulette wheels, dice wheels, chuck luck cages, gaming checks, and lots of other goodies. This reprint is a must for the true collector, reproduced as close to original as possible with card stock cover and two-color coated book inside pages, 6" x 9", 80 pages, saddle-stitched.
H.C. Evans & Co. Secret Blue Book (Reprint)................. $9.95
Shipping: First Class Mail: $2.75
Order on Amazon.com! or visit our eBay Store!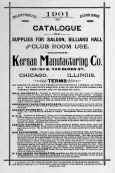 Kernan Manufacturing Company Catalog: This catalog was originally issued in 1901.The Kernan Manufacturing Company was a dealer in supplies for saloons, billiard halls and club rooms. Printed on simulated old paper, the reprint duplicates the original exactly. There are over 300 pictures of such item as coin-operated machines, gambling devices, talking machines, guns, knives, dice, cards, wheels, trade checks and police goods. With 64 pages, this one is a must for the true collector, 5 1/2" x 8 1/2", saddle-stitched.
Kernan Catalog 1901 (Reprint)................. $5.95
Shipping: First Class Mail: $2.00
Order at our eBay Store!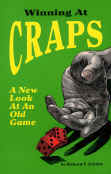 Winning At Craps - A New Look At An Old Game: Veteran craps player, Richard Schulte, designed this book to do for the game of craps what Beat The Dealer did for blackjack: it should be of great interest to beginners with little or no knowledge of the game, as well as veterans who are tired of losing. As the first totally new book on the game in nearly 50 years, it could make all other books on craps theory obsolete. As the basis on which the author builds his premise is an examination of the percentages of the various craps bets. After careful and painstaking analysis, Schulte has determined that certain time-honored assumptions are not verifiable in actual play. For example, he has determined that the house advantage fluctuates, rather than remaining static, as most players presume. Winning At Craps - A New Look At An Old Game explains the best and worst bets, outlines a realistic money management strategy, provides information on junkets, comps, sucker bets, and much much more. It measures 5 1/2" x 8 1/2", is perfect bound, has 152 pages and has an attractive, five-color plastic-coated soft cover.
Winning at Craps................. $9.95
Shipping: Media Mail: $2.95 Priority Mail: $5.50
Be sure to contact us if you're ordering more than one book so we can save you
money on shipping! Email: orders@meadpublishinglasvegas.com