How to Order

Ordering

Payment

Shipping & Returns

Shipping Rates
Returns, Changes
and Cancellations

Order Tracking
History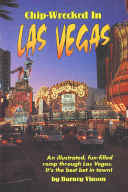 Chip-Wrecked In Las Vegas: This entry is a riotous collection of vignettes about Nevada and Las Vegas. Peppered with nearly 90 photographs - old and new - Chip-Wrecked reads something like a gigantic Reader's Digest of Las Vegas and Nevada. In 70 spellbinding chapters, you'll read about strange events that have occurred inside casinos, why video poker is taking over the industry, scams and shams through the ages, the rise and fall of the mighty Dunes Hotel and Casino, the inside story about Las Vegas's tourist traps and who's who and what they do. You'll see actual photos of early gambling, Bugsy Siege l... in life and death, inside Hoover Dam - before it filled with water, Reno's famous Virginia Street in the 1930's, craps shooters in the Las Vegas Club in 1947, Louis Prima singing at the Sahara Lounge in 1956, casino surveillance through one-way mirrors, Pappy Smith in Harold's Club with old-time slots, Double Mills slots being played for $10,000, Howard Hughes and other young casino owners and opening night at the Sands Casino in 1952. Chip-Wrecked In Las Vegas contains 400 pages, measures 5 1/2" X 8 1/2", is perfect bound, and has a colorful, plastic-coated soft cover.
Chip-Wrecked in Las Vegas................. $19.95
Shipping: Media Mail: $3.95 Priority Mail: $5.50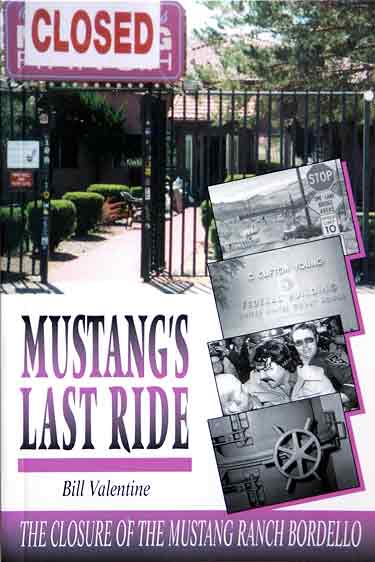 Mustang's Last Ride, The Closure of the Mustang Ranch Bordello, by Bill Valentine:

On Monday, August 9, 1999, a task force of federal law enforcement officers converged upon the grounds of the Mustang Ranch, a world renowned legal brothel, that lie just outside of Reno, Nevada, in Storey County. The officers carried with them, court documents that would effectively transfer ownership of the brothel from one, Joseph Conforte, to the federal government. This action was designed to shut down the brothel forever. Bill Valentine's 20 years with the Nevada Department of Prisons offers an amazing amount of inside information into the characters that fill this book.

Mustang's Last Ride

contains 308 pages plus 36 pages of rare black and white photographs,

measures 6" x 9" and is perfect bound with an attractive full color, plastic-coated soft cover.

Mustang's Last Ride........................... $21.95
Shipping: Media Mail: $3.95 Priority Mail: $5.50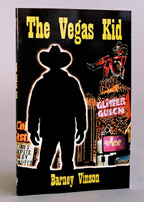 The Vegas Kid, by Barney Vinson: Renowned gambling humorist, author of Chipwrecked in Las Vegas, and casino insider Barney Vinson spins the quintessential Las Vegas yarn in The Las Vegas Kid. Sam Durango is riding high. He's the star of the TV western "The Vegas Kid," he's married to a glamorous actress, and lives in a beautiful home in the Hollywood hills. And then his life becomes a country-western song. His show is canceled, his wife leaves him, and – he's homeless and broke. Left with no choice but to move on, Sam leaves California and his old life, ready for a new start in Las Vegas. Along the way Sam meets up with a ragtag cast of characters, including arch-rival Buck Beaumont, a mystery woman, a couple of escaped cons, and some of the sharpest gamblers west of the Mississippi – and they're all after one thing, to score the big jackpot at Blackie's Casino on Halloween night. Printed full color plastic coated cover, 198 pages, 5 ˝" x 8 ˝".
The Vegas Kid................. $12.95
Shipping: Media Mail: $3.95 Priority Mail: $5.50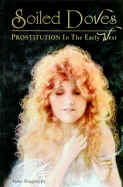 Soiled Doves (Prostitution In The Early Years): This stunning book reveals the dark world of 19th century western prostitution and provides a touching insight into the lives of the ladies of the night. Soiled Doves makes no attempt to cleanse the soiled dove, often known as the "fancy", "fallen angel" or "sporting" ladies of the night. Caught in a web over which they had no control, most ended up in the oldest profession simply because there was nothing else they could do. Prostitution flourished in the United States with the opening of the American frontier as thousands of young, healthy men left their homes and families behind in search of precious metals, land and adventure. Since there were few women on the frontier (estimates indicate one woman for every 50 men), the first to arrive were ladies of easy virtue, along with gamblers, gun slingers, miners, brawlers, shopkeepers and farmers. Solid Doves takes you to the great American frontier where the red light districts were as much a part of the early West as the mine tailings, canvas shacks and garish saloons that dotted the landscape. The book's many rare, period photographs further enhance this highly recommended, scholarly monograph. Soiled Doves contains 176 pages, a glossary, bibliography and measures 6" x 9", and is perfect bound with a full-color, plastic-coated soft cover.
Soiled Doves......................... $11.95
Shipping: Media Mail: $3.95 Priority Mail: $5.50
Be sure to contact us if you're ordering more than one book so we can save you
money on shipping! Email: orders@meadpublishinglasvegas.com