How to Order

Ordering

Payment

Shipping & Returns

Shipping Rates
Returns, Changes
and Cancellations

Order Tracking
Trade Stimulators & Counter Games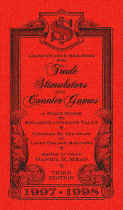 Red Book Trade Stimulator And Counter Game Price Guide: If you have one of those little slot machines or coin-operated counter games that doesn't pay out, is it worth anything? This book can give you the answer. Fifteen years of research is presented in this pocket sized price Guide. Data has been obtained from many sources - sales, shows, auctions, collectors and dealers. This third edition contains alphabetical listings of over 900 trade stimulators and counter games from nearly 250 manufacturers - from 1878 to 1997. Each entry is accompanied by five prices, from brand new, out-of-the-box to clobbered and barely workable. In addition, nearly every entry includes the manufacturer's name, date of introduction, rarity, and other pertinent comments. This is the 1997 - 1998 edition. But, trade stimulators and counter game machine values have been so stable the last five years, we don't foresee republishing this book until at least 2003. The Red Book Trade Stimulator And Counter Game Price Guide measures a pocket-sized 4" x 7 1/2", contains 110 fact-filled pages and is perfect bound with an attractive, bright red cover.

Red Book Trade Stimulator Price Guide................. $17.95
Shipping: Media Mail: 2.95 Priority Mail: $5.50
Order on Amazon.com! or visit our eBay Store!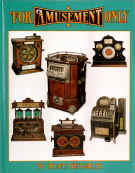 For Amusement Only: This combination book by Thomas Gustwiller covers a wide range of coin-operated amusement and gambling devices - about 500 of them. For Amusement Only is a handy pictorial reference guide for the rare and unusual machines that collectors have heard about, but have seldom seen. Impressive black and white photographs of machines range from single-wheel counter and floor-model slot and card machines to common two and three-reel models. And in between there are cast iron payout and cigar (card) machines, coin flips and drops, horse race and dice games, roulette and spinner games and many miscellaneous devices. Photographs average three to the page and each is accompanied by a specification block listing the name, manufacturer, date, estimated value, rarity factor and appropriate comments. As a bonus, For Amusement Only includes a machine listing originally compiled by Coin Machine Journal and a pictorial listing of the "Most Wanted Unfound Machines." Both are invaluable sources for historical reference. It is fully indexed, contains 248 pages, measures 8 3/4" x 11 1/4", and has a full-color plastic-coated hardcover.
For Amusement Only................Originally $39.95..............Now $20.00
Shipping: Media Mail: $4.45 Priority Mail: $11.00
Order on Amazon.com! or visit our eBay Store!
Be sure to contact us if you're ordering more than one book so we can save you
money on shipping! Email: orders@meadpublishinglasvegas.com