How to Order

Ordering

Payment

Shipping & Returns

Shipping Rates
Returns, Changes
and Cancellations

Order Tracking
Loose Change Magazine (Page 2)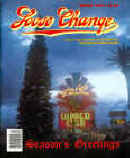 Winter 1995
A Las Vegas Christmas Yes, Santa Claus really does stop for children in Las Vegas. This is a place where anyone can sit on Santa's lap and be a kid again. The Homewood Auction This auction proved to be one of the most exciting events for coin-op enthusiasts in nearly a decade. Several records were set, including the $130,000 bid for a Fey LIBERTY BELL. All the bids are published. Topping Off The Tower The critics said he was nuts. The kooks jumped up and down with glee. Others bought stock in Bob Stupak's Stratosphere Tower. We take you to the "topping-off" ceremony and let you decide. In The Reign of Rothstein One of the greatest gamblers of all time has been largely forgotten today. But during the 1920s, Arnold Rothstein was king of the underworld. What a story! The Mills Q.T. Hand-load There are 13 models of the Mills Q.T. according the an article in a 1982 Loose Change. Now there are 14; another model was hiding in the back room of a Chinese restaurant in Las Vegas. Dallas Antique Coin Machine Show We take you to Texas for the three-day Dallas Antique Coin Machine Show. Peggy Sue and Buddy Holly's guitar attended!
November 1995
Gameroom Slot Machines: We tell you what types of slot machines are suitable for game room use, from brand new to not so new; from repros to regals; from expensive to cheap. We even tell you what denominations to choose and why, and we'll even dispel the myth about dime machines. Tony Cornero This thumbnail sketch will refresh your memory about a nearly-forgotten mobster and gambler from the 1920s who died at a Las Vegas craps table in 1955. What About The Kids? How old should children be before they can gamble? Why 21? Why not 20 or 22? There are, in fact, 30-year-olds who shouldn't be allowed near a casino. This report is astonishing. Gaming In Michigan The author rates the 10-year-old casinos in this area with words and pictures. Bets From Home By Phone and Computer Wake up! This is the computer age, and you can set up an electronic casino. All you have to do is find your own rock to stand on. But do you want to battle the legal barriers?
October 1995
Mechanical Dice Machines The best mechanical craps machine is still man himself. This comprehensive article tells how he has tried to replace himself over the years with machines. Indian Gaming, The Supreme Court and You A prediction on how the United States Supreme Court will rule in the Seminole decision. Taps, Caps and Flats Gaffed dice of yesteryear included shifting loads and other ingenious "adjustments." This article covers most of them. The Case of the Casino Ghost Town Our Halloween story for this year is about a river town that was once the lively darling of the gambling industry. Today, there are no casinos—only some ghosts! Will Congress Kill The National Lottery? At-home gaming and the National Indian Lottery are on the griddle. Will Congress burn them? Win By A Knockout The deadbeat from Michigan who thought he didn't have to pay his Nevada gambling debts finally hits the canvas. The casino wins by a knockout!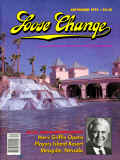 September 1995
Players Island Resort We take you to Mesquite, Nevada for the grand opening of Merv Griffin's new resort casino, hotel and spa. Merv Griffin Talks To Loose Change: Merv tells Loose Change magazine all about the old days in Las Vegas and about his future in this exclusive interview. Bally's Game Maker Can one size fit all when it comes to slot machines? Bally says "almost" and offers GAME MAKER with touch-screen technology and up to 10 games on one machine to prove their point. Benjamin "Bugsy" Siegel This thumbnail biography traces the infamous mobster's life from childhood to his famous Flamingo Hotel and Casino on the old Los Angeles Highway—later nicknamed the "Strip." Computer Gambling The technology for virtual reality casinos in the privacy of your own living room is here. Find out why nobody is proposing such an idea . . . yet. We discuss the risks.
vv PUBLICATION SUSPENDED vv
APRIL 1995 THROUGH AUGUST 1995
March 1995
Bob Geddes There are people in this world who make great contributions enjoyed by everyone. They don't wave banners or flags, and they go largely unnoticed by the very people who benefit from their efforts. One such person is Bob Geddes, a man who has been active in coin-op collecting for 25 years. How Not To Write Indian Gaming Compacts New Mexico accidentally legalized every form of gambling imaginable—as long as it was on a video screen. They fixed it, then turned around and made the same mistake all over again! The Beauty That Is Dewey The turn-of-the-century Mills DEWEY was one of the most popular floor machines of its time. Learn all about them and their variations. Faro: Faro was last played at Joe W. Brown's Horseshoe Casino in downtown Las Vegas. Come and "Buck The Tiger" with us in this expansive history of the game. Thomas W.B. Watling Always a brag and nearly always a copier of others, Tom Watling's creations are wildly sought after by collectors today. This thumbnail biography will open your eyes about the man. California Indians Can Open Casinos Since keno machines were ruled legal, slot machines must also be ruled legal for the tribes.
January/February 1995
A Guy Named Rick At Rick's Restorations you pick out the machine you want from hundreds, tell them how you want it restored, and presto—you have a first-class piece for your collection. Two Machines, Two Reels, Three Companies, Two Years Some machines are so unique that collectors just cannot pass them up. That's the story with the Vender MIDGET, a 1932 creation with two reels. Carolina Confusion Most of South Carolina's 23,000 licensed slot machines are illegal. Adolph and Arthur, The Caille Brothers A thumbnail biography about the Caille's and their company—part of which survives today! The Bally Draw Bell Bally's 1946 electromechanical console slot machine carved a significant niche into the slot machine world. Gambling Terms This is "must" reading if you don't know the difference between a Santa Barbara, Pig's Eye, Dolly Parton or a Sex Allowance.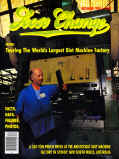 December 1994
Touring The World's Largest Slot Machine Factory Join in this guided tour of the Aristocrat factory in Australia. We explain all the production processes in words and pictures. Las Vegas At The Movies Las Vegas shines in the Hollywood spotlight. Sex, money, tragedy and good fortune come together in this run-down of a few classics. A Court Blows It The explosion of legal gambling has forced lawyers and judges to look again at issues. But sometime the court's thinking is as outdated as hoop skirts and handlebar mustaches. Legal States For Slot Machines Our (nearly) annual update of legal states for collectible slot machine has some surprises. The Many Faces Of A Slot Machine When jackpots became fashionable in the late 1920s, so did a new part: the front. Some "front" machines are prime collectibles today. The Mills Manufacturing Company This thumbnail biography traces the Mills dynasty from its railroad brake manufacturing in 1878 to more familiar times. How Not To Legalize Slot Machines Battles rage across the country over the issue of slot machines. A case in point is New Mexico.
November 1994
They Laughed When I Decided To Build My Own The story of how Carlton Van Gorder carved a niche in the industry by building slot machines with off-the-shelf components. It's truly an American dream come true. A Vest Pocket For Mr. Mills It's the story of the Mills VEST POCKET, measuring only 8" x 7" x 8". Introduced in 1938, it lasted until the Johnson Act of 1951; then it was made under the SEGA name in Japan. Caribbean Stud A special report about a poker game with a house-paid, progressive jackpot. We tell you how it is played. The Real Election Results Everyone was watching Florida and Missouri in the recent elections, but the real story was unfolding in South Dakota. Bon Voyage There are few places in the world more fascinating than a casino, even if you don't have to travel to other parts of the world.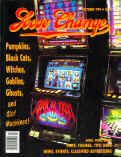 October 1994
Pumpkins, Black Cats, Witches, Goblins, Ghosts and Slot Machines Halloween has become the third most popular party for adults. But only one manufacturer makes a slot machine with the Halloween theme! The Fremont Street Experience Now they're building a roof over downtown Las Vegas, after rejecting crackpot ideas like subways to downtown or Venetian canals. Coming To A Casino Near You It's monkey see, monkey do, when it comes to legalizing gambling in the good old U.S.A. One Year Later What was once a cornfield and trailer park is now a full scale Indian casino—growing by leaps and bounds. Casinos - Why Now Yea, and riverboat casinos crawled up onto the land and breathed air and became land-based life-forms . . . mutants from the Black Lagoon? Sports Betting Where do all those numbers come from that line the walls of Nevada's sports books? What does it all mean? We simplify it for you.
September 1994
If You Want To Hit It Big, Play Keno A discussion of some of the best and most popular types of tickets. The Business of Gaming A special report on the recent International Gaming Business Exposition where the brightest and best of the new games were unveiled. Biting Off the Hand That Feeds You I. Nelson Rose addresses the tendency of legislatures to limit political contributions from gaming enterprises. Boomtown The new casino complex outside Las Vegas caters to middle America in western style. Adrift on an Iowa Riverboat The failure of the Iowa legislature to keep its gaming laws on a par with other states is hurting profitability of its gaming industry. The Jennings Ciga-Rola Some information about the unique cigarette-vending machines of the O.D. Jennings Company. Winning, Losing, Suing, Winning Mississippi Supreme Court treats legal gaming like any other business. Card Counting by Casinos: Casinos are now using sophisticated computer programs to determine if a blackjack player is card counting.
vv PUBLICATION SUSPENDED vv
MAY 1994 THROUGH AUGUST 1994
April 1994
The Victorian Era The Jennings Company challenges the industry with a "new" machine. Winning Battles, Losing the War State authorities battle Indian tribes over reservation gaming. Who's really winning? Australian Pokie Picture Book A pictorial sojourn through Australian slots; continuing the series on gaming "down under." A Deluge of Laws As states legalize gaming within their borders, the laws regulating the activity increase geometrically. Phosphates, Malts and Vintage Classics A Phoenix, Arizona, antique shop is also a 1928 soda fountain and country store museum. Gambling Goes Mainstream The reasons for the current proliferation of legalized gambling are not so simple as they might appear. What Is A Lottery? I. Nelson Rose talks about the various legal definitions of a lottery and how they affect gaming laws.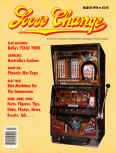 March 1994
Bally's TEXAS TWIN Collectors bring these machines back to the U.S. from Australia and Sweden. The Casinos of Australia Some of the casinos "down under" capture the ambience of earlier days. Phoenix Slot Expo The Meads bring the trade show back for the second year—with marked success. Slot Machines for the Game Room Brian J. Kearney evaluates slots and makes his recommendations. Gaming Heads for the Clouds Coffee, tea, or video poker? A discussion of in-flight gaming. Californians Will Vote against Casinos I. Nelson Rose predicts that Golden State voters will say "Not in my back yard!"
January/February 1994
Australia's Aristocrats The final chapter of the Aristocrat Company history: Landmark models from its first machine to today. Casinos for California? Our legal expert, I. Nelson Rose, looks at a court decision regarding Indian casinos in that state. The Alton Belle A modern yacht-like riverboat brings casino gaming to the Mississippi. Indian Casinos A guest editor compares the Indian casinos to those in Las Vegas—favorably. Riverboat Gaming A look at the present state of riverboat gambling—and a peek into the future. A Token Revolution Security considerations dictated the emergence of "tokens" in casinos; collectors find them irresistible. The Fine Art of Tipping Who? How much? And When? A guide to the correct way to handle gratuities.
December 1993
Watling's Multi-Coin Rol-A-Top A disclosure of the mechanism that permitted this slot machine to accept coins of different denominations. Predicting Costner's Loss in South Dakota I. Nelson Rose details the gamble of the actor and his brother to establish high-stakes casinos. Pubs, Clubs, Liquor and Gambling A background article on an upcoming series of gaming "down under." The Liquor Industry in New South Wales The little-understood regulations that govern liquor and gambling in that area of the world. Legal States for Slot Machines An update on slot machine legality in the various states, especially as applied to collectors. Legal Countries for Slot Machines Over 80 countries permit slot machines within their borders. Here's the listing. Riding the Rails to the Grand Canyon Editor and publisher Dan Mead relates his experiences as he travels the 65-mile restored Grand Canyon Railway. Multiple Coin Slots from Heads to Tails Some of these marvelous slot machines are still being made today!
November 1993
Aristocrat The first of a series on Australian gaming, featuring the world's second-largest manufacturer of slot machines. Wrapping Money The Unique Way: A look at the specialized industry that makes the paper coin wrappers used in casinos.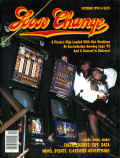 October 1993
Selling Gambling Legalized gambling exists worldwide. The people who selling gambling devices and support services display their wares periodically at gaming shows. This special report covers two such events—each halfway around the world from each other. You may be surprised at the differences. The Denver Show The show is a club event. It's distinctively petite, but they've been doing it for a long time. We give you the background. The Explosive Spread of Legalized Gambling Few people realize the extent of legalized gambling throughout the world. Canadian gambling is the indirect result of the 1985 Winter Olympics. Las Vegas, Now For The Entire Family Casino lords finally discover that the way to a gambler's wallet is through his family—including the children. Free Play or Play Free? By 1940 the heat was on slot machines. Frank Costello's MYSTERY FRONT VENDERS were under the New York hammer. Then came the FREE PLAY FRONT VENDER . . . it sure looked similar!
September 1993
Black Gold Bally's BLACK GOLD was the first large denomination game and is linked to other slot machines of "color." Elmer Cummings Auction Highlights of the auction are presented in this quick photo essay. Reproduced Slot Machines Once called counterfeits, these slot machines are now ranked with other modern reproductions. Does Gambling Cause Crime? Gaming attorney I. Nelson Rose examines the issue. Pasadena Super Show This new event managed to pull through despite a disastrous California economy. They Shoot Horses, Don't They? The brand new experiment in horse race books can't find the finish line.
July/August 1993
Gambler's Paradise La Cabana Beach Resort & Casino on the island of Aruba in the Caribbean is the ultimate vacation getaway. Great Coin-Op Show Wars Increased competition in the coin-op exhibition trade has fueled vicious battles between producers. Bunnies in Kimonos Find out about the Japanese pachisuro slot machines, which have become a low-cost alternative to Bally electro-mechanicals. Collectors Fun Fair The Fun Fair's return to Pasadena was not so triumphant, with the California tax collector adding to its misery. Texas Coin-Op Show The second annual Texas show shows the effects of a sagging economy.
June 1993
Women and Gambling Machines Has the love affair between women and gaming machines gone from modern romance to Fatal Attraction. Find out in this exclusive report. Drunks Don't Count The spread of commercial gambling has precipitated an increase in lawsuits against casinos by losers who cite alcohol as a reason. Attorney I. Nelson Rose examines the issue. St. Louis Slot Expo The Great American Slot Expo continues its transcontinental roll with another popular exhibition in Collinsville, Illinois. Debugging the Bally Electro-mechanicals Servicing the popular Bally electromechanical slot machines is easier than most people think.
May 1993
Bally 5000 Series Introduced in 1987 the modern machines vaulted the industry into the high-tech age. Great American Slot Expo Exhibitors had a field day in the Crescent City's coin-op and nostalgia. Flipping Out Over Pinball World-class collector Tim Arnold shares his 900-plus collection with Loose Change readers. How Rare is Rare? The scarcity of slot machines is not the only element in determining its collector's value. Find out about some intangibles.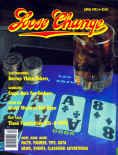 April 1993
Bally's Bartop Video Poker The manufacturing giant has had to play catch up in the video poker market. Great Western Slot Expo Thousands of nostalgia buffs turned out to christen the new coin-op show in Phoenix, Arizona. The Fascinating ROL-A-TOP Watling captured the industry's fancy in 1935 when it unveiled its new machine. Today collectors are reaping the rewards. Craps Bets For Suckers Despite its popularity, many players still don't understand which bets to make. Until they read this article.
March 1993
The Bally E-Series Slots The machines that bridged the gap between electro-mechanicals and steppers, broke ground with new jackpots. The Ever-Popular High Tops The Mills machines dominated the market after World War II, and their popularity with collectors hasn't diminished. The Next Las Vegas? Cities, states and Indian tribes are scrambling to become the next gambling mecca in the country.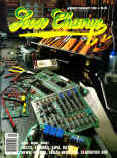 January/February 1993
Brave New World of Slots Space age technology has thrust slot machines and other gaming devices into the 21st century. Battle of the Titans Commercial gambling operators are battling it out for the highly sought-after gambling dollar. Collecting Casino Chips Learn about one of the fastest growing hobbies, one that won't cost you a fortune to get started. Evolution of Pinball A historical and technological survey of pinball machines shows why the craze is as frenzied as ever. The Math of the Bally 742 Our Slot Talk column examines the formulas used in determining the payout percentages of the popular MONEY HONEY.