Loose Change Magazine (Page 3)


December 1992
Hoke's Hoax? Were the Hoke SNAKE slot machines simply crude revamps or masterpieces of modification. Find out in this well-illustrated article. Neon: It's A Gas Neon signs and other advertising displays have become prize collectibles. Pick A Cardco A new series of poker machines brings card room games such as Seven Card Stud, Hold 'Em, and Pai Gow to video gaming. The Liberty Auction Late-model slot machines and video poker machines were on the block at this fast-paced auction in Las Vegas.
November 1992
California Card Clubs Poker parlors patterned after Las Vegas casinos have brought high stakes gambling to Southern California. Video Lottery Terminals State-sponsored gambling in the form of video poker, keno, slot and other types of gaming machines, is sweeping the nation. Horse Player's Heaven The new Sport of Kings race and sports book in Las Vegas is Valhalla for serious bettors. Gambling Glut Experts at the World Gaming Congress & Expo predict the growth of commercial gambling may add to cities' woes.
October 1992
Fey's ON-THE-LEVEL Dice Game Charles Fey's coin-operated dice machine capitalized on the popularity of craps, and set off a wave of imitations. Craps For Veterans A new look at an age-old game of craps disputes conventional right way theory and suggests new methods to swing the odds in your favor. High Rollers on the River Floating casinos on riverboats or dockside barges are popping up along the Mississippi River and the Gulf Coast. Calling It Quits Two Las Vegas casinos hit an extensive losing streak, and fold their tents and close down. Preserving Las Vegas' Past The frontier heritage of Southern Nevada is on display at the Clark County Museum in Las Vegas. Milwaukee Coin-op Show There was nostalgia galore at the Milwaukee Fabulous Fifties Expo and Sale.
September 1992
Baseball For A Coin Here's a detailed look at baseball-themed slot machines, have been around since Babe Ruth. Bally's Sweet MONEY HONEY The Bally 742 introduced in the 1960s is fast-becoming a modern classic. The Pinball Show At times it was like an arcade gone wild, but the Scottsdale Pinball Show was a mecca for chasers of the silver ball. Texas Coin-Op Show The Last Frontier Cowtown Coin-Op Show in Ft. Worth makes an encouraging turn-around from the dismal event held 14 years ago. The Cruel Tax Winning a major lottery or jackpot should be a dream come true, but the taxman can transform the windfall into a nightmare.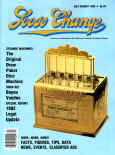 July/August 1992
Horses, Dice and Draw Poker: Charles Fey's DRAW POKER, a mechanical game based on the dice game of horses, was popular when it was built, and it's been popular ever since. Legal Update 1992 I. Nelson Rose updates the previous year's events in gaming law in areas such as government involvement, debts, tribal gaming, lotteries, winners and losers. New Orleans Coin-Op Show Although the Crescent City is a popular tourist destination, it failed to attract a large coin-op following. Find out why in this first-hand report.
vv PUBLICATION SUSPENDED vv

MARCH 1992 THROUGH JUNE 1992
January/February 1992
Rhyolite In 1904, gold built Nevada's third-largest city with electric lights, modern plumbing and three railroads. Three years later Rhyolite was closing; but today it's still an easy place to like. Let us take you there. Gold! Rhyolite's Bullfrog mine is still in operation. We'll tell you some things about gold that your jeweler didn't mention. Gamblers Have Rights What do you do when you have a lucky streak and the house refuses to pay? We'll tell you. Crooked Dice Old-fashioned wisdom about dice that do what their owners want them to do . . . win and win and win—for them! Charles Fey: This special report about the inventor of the slot machine reveals the fascinating depth of the man. Government Non-Lotteries This federally-operated lottery just doesn't smell right. Korean Water Beetle Game Players wager money on this unique water-style roulette game, and a live beetle is the ball. And where it goes, nobody knows.
December 1991
The Slot Machine That Had It All Bally's Model 1090 slot machine was one of the most popular Bally ever offered. Today it's a top collector's choice. Learn why. Strange Strokes of the Pen A collection of far-out gaming schemes from gaming-law expert I. Nelson Rose. Legal States For Slot Machines This abstract on the status of the states indicated a number of changes. A Different Kind of Christmas An unbelievable glow from all the paying slot machines is made believable in this fictional account.
November 1991
The Biggest Game in Town When Governor Balzar signed Nevada's "wide-open" gambling bill on March 19, 1931. He had no idea of the far-reaching effects. This historical article contains many old pictures of Las Vegas casinos and personalities. On The Warpath The Indians are not going to let gambling get away from them. They're already on the warpath to save what they claim is rightfully their own.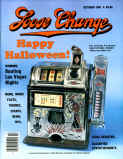 October 1991
Jennings' Trick or Treat The O.D. Jennings Company did some trick-or-treating as they introduced the "Witch and Black Cat" slot machine in 1930. The result was a commercial failure which triggered a complete redesign leading to the introduction of the famous Chief series. The Future of Indian Gaming A business that has gone from to zero to billions of dollars in several years cannot be ignored, and the establishment of a National Indian Gaming Commission establishing a firm legal basis for the industry will begin to attract large investors and experienced operators. Great Southern Collectible Expo This small but unique event combined the friendliness of the south with the excitement of a resort community at the entrance to the Great Smoky Mountains. The Changing Meaning of Bingo: Bingo is no longer the quiet parlor or church basement game you may remember. The Cattle Baron The long-awaited opening of a very special casino in Henderson, Nevada closed five months later. Beating "Las Vegas Nights" Repeated from the previous months, here's how you can win while participating in a "Las Vegas Night" party.
September 1991
A Future for Bally? Despite multimillion-dollar losses and other problems, executives at Bally Manufacturing Corporation expect a brighter future as they moved their corporate offices from Chicago to Las Vegas. Beating "Las Vegas Nights" A gaming attorney tells how to win at gambling while participating in a "Las Vegas Night" party. It's No Longer "Adults Only" No longer is the entertainment capital of the world just for adults. Now entrepreneurs have provided something for everyone. It's The Bank's Fault Due to a bank error, it is possible to take money out of a special ATM in a certain location of a specific city for gambling purposes, and you don't have to pay it back! Fixing Ballys Did you know that in most cases it is easier to fix a Bally electromechanical slot machine than their mechanical predecessors? This introduction tells why. The Best of Bally An objective look at the various collectible Bally machines tells how to evaluate them for your personal preference. The Strange Fellows This introduction to Bally bingo pinball machines explains what they are, their features, how they are played and lists all the various models Bally manufactured. The Beginnings of a Stumbling Giant This inside look at the beginnings of Bally Manufacturing Corporation takes a personal look at the company.
July/August 1991
Another Look at Counter Wheels This objective look at counter wheels as collectibles addresses new considerations. Included is a list of all known single-wheel counter wheels. Riverboat Gamblers of Yesteryear At this time in American history, riverboat gambling is in the news constantly. But gambling on the rivers began over 150 years ago, when they had real gambling. Nostalgia Plays On The manufacture of music rolls for player pianos and band organs was once as common as the manufacture of phonograph records is today. The focus of this special report is on a small, central California that has re-entered the business. Sinking Riverboats A famous gaming attorney predicts doom for the riverboats unless the rules are changed. Harrah's Says Another Goodbye This auction of remaining slot machines in the experimental shop brought the lowest prices seen in over a decade. Included is a list of over 800 slot machines and the bid prices they brought. Ragtime Nickelodeons Ken and Valorie Caulkin's company completely manufactures player pianos and orchestrions as well as kits to convert existing upright pianos.
June 1991
Frank "King" Costello's Slot Machine The MYSTERY FRONT VENDOR that Mills designed for the mobster was Costello's ticket to monopolizing the gray area of gaming machines. Portrait of a Crossroader An inside look at a community of itinerant con men who roamed America. Frank Costello An insightful biography of the reputed mobster who thought of himself as a pillar of the community. Slot Machine Clubs Are these incentives that hotels provide to their customers a worthwhile effort or just another gimmick? America's Hate Affair with Venues of Chance New laws affecting the gaming industry are throwing gaming operators a mean curve as opinions on gambling debts, uncollected winning lottery tickets and advertising rights become divided. The Cutting Edge of Gambling Law The rise of gambling in other states comes uncharted legal ground.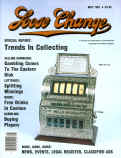 May 1991
Trends in Collecting Slot Machines A nickel's-worth look in this now standardized hobby. The Delicate Art of Splitting Winners' Hair Disavowing relationships with family and friends over a lottery prize is a disheartening trend in the lottery industry. What do you do when your take is at stake? Gambling Comes to the Eastern Bloc The rusty Iron Curtain opens up to gambling as newfound freedoms begin flourishing in Eastern Europe. Old Shell Game Reveals New Sleights of Hand Now you see it, now you don't. Con artists reach new lows in floating the odds of chance in their favor. Free Drinks . . . Want Another? Do drunken gamblers have the right to sue the casino for big bucks? A look at the litigation surrounding this controversy. Compulsive Gambling An in-depth look at why men, women and even teens develop this disorder.
April 1991
The Attraction of the "Flat-Tops" A look at the once-popular machines made in the 1930s and 1940s have faded into history . . . and collectors' esteem. The First Pull Was Free! Besides offering balloons, fireworks and a laser show, the Flamingo Hilton in Laughlin, Nevada also provided free pulls and Barron Bucks to its customers in August 1990. S.A.T. Test Results Phil Frey, of Powell, Ohio, moved to the head of the class on Jim Coleman's Ancient Slot-Machine Aptitude Test (S.A.T.). For class standings—and the answers—look inside. Can Iraq Save Craps? Soldiers in the Persian Gulf try to revive the game of craps, despite cultural differences in the Middle East. Marty A fictitious account of how Marty, a dime slot machine at Al's Oasis, comforts a lonely woman. Outside the Law's Protection When a bad check's payee is a casino, the crime is being in the gambling business. Read how the real crook got away. Dealers Who Count Cards According to blackjack dealers, the dealer is allowed to count cards, but the player cannot. How does the player know he's getting a raw deal? Just shuffle on back to this article.
March 1991
Fun Fair Memories Recalling fond memories of the first Loose Change Fun Fair in Pasadena, California, on October 5-7, 1979. Legal States for Slot Machines An up-to-date listing of laws affecting the collection, sale or possession of slot machines in each state. A Grand Farewell to Pasadena For more than 10 years, Pasadena, California, has been the site of the Loose Change Fun Fair. Now the site will be at the Long Beach Arena in California. Victorian Casino Antiques Auction Rio Hotel in Las Vegas, October 13-14, 1990. Roy Arrington's auction which featured nearly 1,000 bid pieces.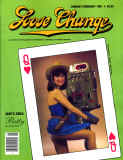 January/February 1991
This Mills BONUS . . . Bonus to Whom? By reading this article, pieces begin to fall in place as the BONUS had a reputation of being a cheater. High-Stakes Indian Blackjack Intended to settle questions over legal gambling on Indian reservations, the Indian Gaming Regulatory Act has raised some major new questions nobody ever thought to ask before the Act became law. Read why. Evans' KEENO . . . Bingo In Disguise? An inside look at the short-lived success of H.C. Evans' KEENO machine and exclusive photos of the only machine found. Loony Laws About Coin-Operated Machines Wearing shiny patent leather shoes while playing a game in Pocataligo, Georgia, or "giving the razz berries" to a coin-operated machine repairman are illegal. This article playfully describes these and other outrageous laws about gambling.
vv PUBLICATION SUSPENDED vv
JULY 1990 THROUGH DECEMBER 1990